By Caroline Jerome, Communications Coordinator, Grapevine Convention & Visitors Bureau
Looking for the ultimate escape from the Texas heat? Look no further than Grapevine Lake for activities that will keep everyone happy and entertained – whether you're part of a family with young kids or want to have a mini-getaway with the boys, Grapevine Lake has everything you need to make those lasting memories with those you love.
To make things simple, we've put together a bucket list that includes our top five favorite things to do at Grapevine Lake, but of course, feel free to add your own twist and make the experience all your own!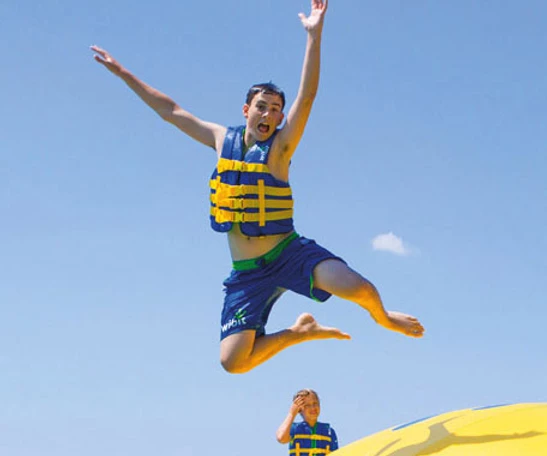 1. WhoaZone Grapevine – Do you like obstacle courses? Well then you're sure to love WhoaZone Grapevine, which features our award-winning inflatable obstacle course that provides hours heart-pounding, high-energy fun for guests of any age.
2. Fishing Guides – Sometimes being out on the open-water fishing with a guide, is the perfect way to spend a weekend afternoon. With more than 20 years of experience, Luck O' The Irish Fishing Guide Service can help you catch your fill while having an enjoyable time.
3. Jet Skis – If you're feeling the need for speed, then check-out Sam's Dock where guests can rent jet skis, party boats and more for the ultimate summer day on the lake.
4. Kayaking/Paddleboards – Head on over to The Vineyards Campgrounds and Cabins for kayak and paddleboard rentals for the hour or the whole day – just make sure to bring your sunscreen!
5. Parks + Trails – Maybe the water isn't for you, and you just want to set up a picnic nearby? No problem at all – Go Grapevine is your one-stop-shop for all things related to outdoor activities in Grapevine.
For more information about accommodations, attractions or summer events, please contact the Grapevine Convention & Visitors Bureau at 817-410-3459 or visit www.GrapevineTexasUSA.com.