By Sophia Stoller, Director of Media Relations, Grapevine Convention & Visitors Bureau
Grapevine, Texas is the perfect destination for families wanting to get away from it all this summer. Experience extraordinary hotels and resorts to all centrally located to exciting attractions, charming winery tasting rooms, exceptional restaurants and a plethora of shopping opportunities.
Grapevine is home to the Texas Wine and Grape Growers Association and the perfect place to visit for a Texas wine-tasting experience. From strong and bold Texas reds to crisp and clean Texas whites, you'll find a variety of favorite taste sensations. Grapevine's Urban Wine Trail is a collection of winery tasting rooms located within close proximity of one another, with most in Historic Downtown Grapevine.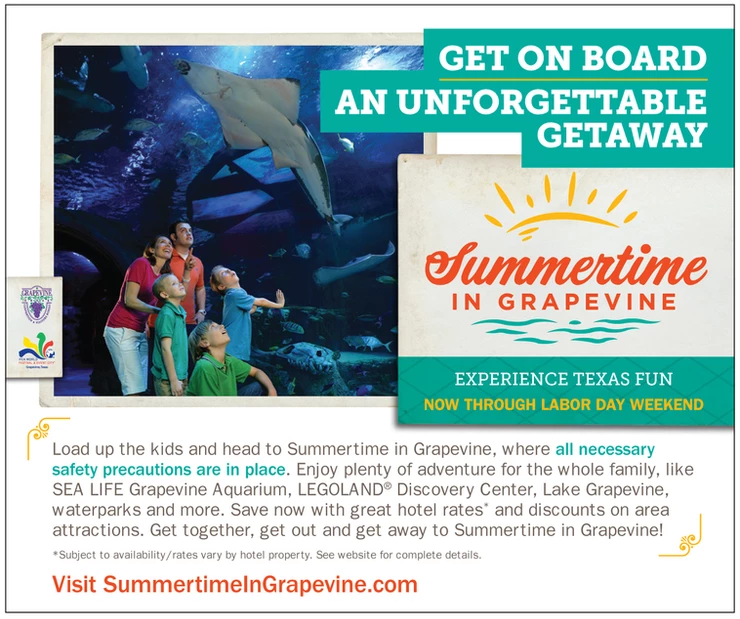 Need to stay cool? You can glide down a water slide at the indoor water park at Great Wolf Lodge or sail away on beautiful Lake Grapevine. You are sure to find exciting activities during Summertime in Grapevine – Grapevine Vintage Railroad, Summer Movie Series at the Palace Theatre, Grapevine Market, 81 holes of golf, Farmers Market, summer nights along Main Street, Nash Farm, water recreation and much more!
Be sure to explore our Grapevine Pioneers Storybook Adventure Passport, which takes place throughout Grapevine's Historic District. Kids can experience the life of a pioneer on the Grape Vine Prairie by taking part in a variety of 1800s skills and trade activities spread across Nash Farm, Tarrant County's oldest farmstead, the Historic Cotton Belt Depot and Section Foreman House, Millican's Blacksmith Shop and more.
For more information about accommodations, attractions or summer events, please contact the Grapevine Convention and Visitors Bureau at 817-410-3459 or visit www.GrapevineTexasUSA.com.