By Emily Adams, Communications Coordinator, Grapevine Convention & Visitors Bureau
The Grapevine Vintage Railroad's (GVRR) 2020 season is officially open. Riders can choose between two types of excursions on Saturdays and Sundays, including the Grapevine One-Hour Train Excursion and the Cotton Belt Route Train Ride, featuring a leisurely 42-mile roundtrip to the Historic Fort Worth Stockyards from Grapevine. For tickets and more information about GVRR, 2020 excursions and special event trains, visit www.GVRR.com.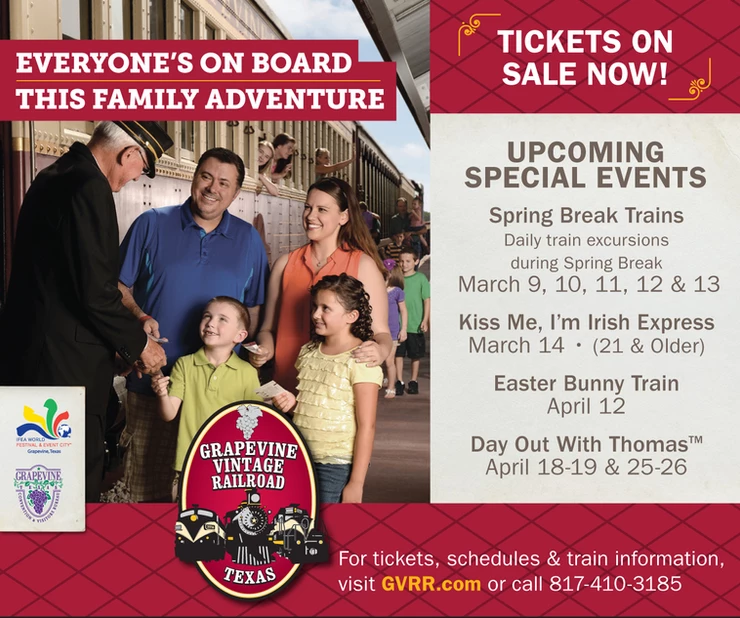 Step on board one of GVRR's Spring Break excursions and ride the rails March 9-13 with featured interactive games and activities. All trains depart Grapevine for the Fort Worth Stockyards at 1:15 p.m., arriving at approximately 2:15 p.m. The return trip departs the Stockyards at 4:15 p.m., and returns at approximately 5:45 p.m.
Adults 21 and older can don green and celebrate St. Patrick's Day on board GVRR's Kiss Me I'm Irish Express! This train excursion takes place Saturday, March 14 at 7:20 p.m., and includes two craft brews for each guest with additional craft brew available for purchase, Irish-style hors d'oeuvres and a souvenir craft brew mug.
Each morning during the week of Spring Break, catch a classic, kid-friendly matinee during the Palace Theatre's Spring Break Movies. All screenings are at 11 a.m. and admission is $4.
• Matilda, Monday, March 9
• Ice Age, Tuesday, March 10
• Dr. Dolittle, Wednesday, March 11
• Cars, Thursday, March 12
• Tooth Fairy, Friday, March 13
The Palace Theatre is celebrating Julie Andrews month with $6 admission classic movies such as:
Marry Poppins, Friday, March 6 at 7:30 p.m.
Thoroughly Modern Millie, Saturday, March 7 at 7:30 p.m.
The Princess Diaries, Friday, March 13 at 7:30 p.m.
Torn Curtain, Saturday, March 14 at 7:30 p.m.
The Sound of Music, Friday, March 20 at 7:30 p.m.
10, Saturday, March 21 at 7:30 p.m.
The Americanization of Emily, Friday, March 27 at 7:30 p.m.
Victor Victoria, Saturday, March 28 at 7:30 p.m.
For additional information about Grapevine, please visit www.GrapevineTexasUSA.com or call 817-410-3185.