By Bailey Powell Aldrich
Founder Kristin Cavallari talks about her adoration for the Dallas/Fort Worth woman, her self-care routine post-divorce, and which Hills castmates have remained supportive through the years.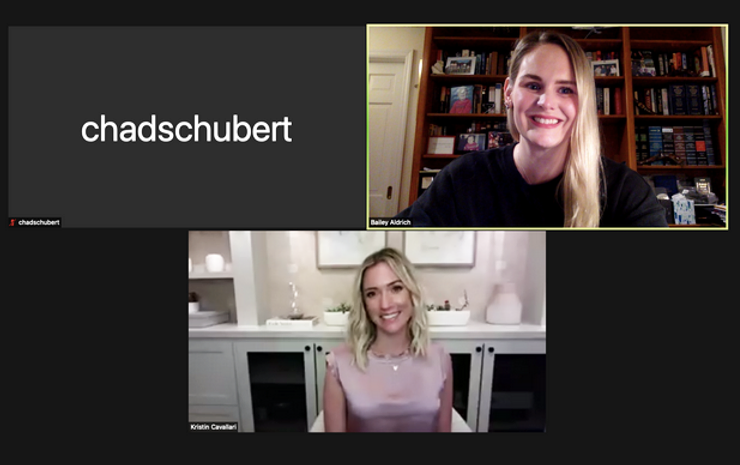 Me, Cavallari, and my personal favorite, Chad the mystery box
Like any good interviewer, I introduced myself to the subject, in this case the fabled Kristin Cavallari, and upon being asked how I'm doing I told her I lived with my in-laws, and to please pray for me.
"Wow, yeah," she replied with concern in her eyes.
After this relay of information no one asked for, we began discussing her most recent store opening for Uncommon James, her jewelry, beauty, home and apparel brand. I was meant to meet with her in person at the November 12th party at her new Deep Ellum store but couldn't make it, so she agreed to chat with me over Zoom.
"What drew you to the Dallas/Fort Worth area?"
"It's a huge market for us! It always has been since I launched Uncommon James. I also just love the people in Texas. The women are stylish, they're fun, they're sassy, they're outgoing, they're everything I think our Uncommon James girl is, so to me it just made a lot of sense. I was really excited about opening up doors [here]."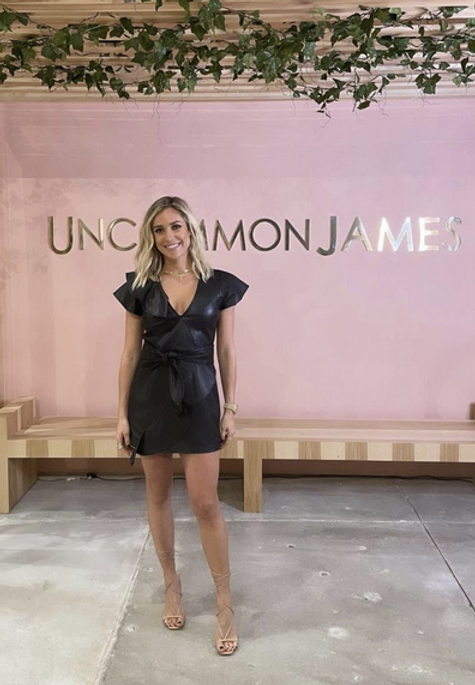 Cavallari in the new Uncommon James store in Deep Ellum
In addition to being a repeated New York Times bestselling author, Cavallari's cultivated massive market share in southern cities with Uncommon James, and now her new line Uncommon Beauty. Ever the millennial, she's honed in on clean beauty.
"The Pineapple Peptide Nectar is my favorite because it's essentially 2-in-1. It's peptides and Vitamin C so it's brightening, hydrating, anti-aging, it's really everything that we want in a serum, and it's really light and has this really nice pineapple scent. I'm not typically crazy about scents on my skin, but this felt appropriate… It instantly puts me in a good mood. It sort of reminds me of Hawaii."
"Cool, a little vaca in your bathroom," I responded, cringing in real time at my response. I moved on. "I know you are a hands-on mom and kids keep you very busy, but let's imagine the kids are taken care of for the night. What would your ideal self-care routine or way to unwind look like?"
"You know, the thing is that now that I'm divorced I only have my kids half of the time, so I'm in a situation where I'm able to make myself a priority when I don't have my kids. So, for me that is laying in my infra-red sauna, that for me is such a good destressor. I love doing a face mask, and honestly just doing anything that's mindless. So, if that means watching TV, great. I don't watch a ton of TV but I have a little bit more in the last few months. Reading a book, opening up a bottle of wine, maybe it's organizing. Like, I love organizing my house. I find that to be so therapeutic. I love going through my closet, the refrigerator, the pantry, my kids' rooms when they're not here. I can get rid of so much stuff because they have no idea. Cooking a nice meal… I'm a homebody so just being in my house, putting music on and relaxing, not having to be on my phone or answer to anybody, and just being able to be mindless is really nice."
"I think it's hilarious you go and edit your childrens' rooms because they won't know."
"I did it yesterday. They have this cupboard downstairs in the TV room and I just went through it and got rid of so much stuff and… they have no idea! It has gotten me into trouble a couple times where they're like 'Where is this thing?' and I'm like 'I don't know! I'm not sure!' (laughs) But for the most part they have no idea. I'm not like [donating] their favorite stuff."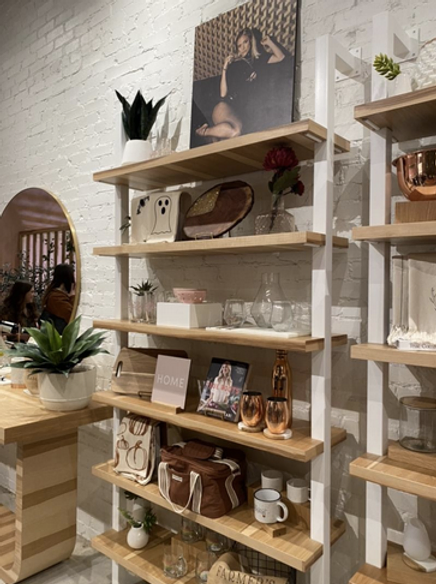 Some of the wares on offer at Uncommon James Dallas
After living in California a long time, Cavallari has embraced the slower moving life of suburban Nashville.
"I really love it here. I actually live in Franklin which is about 35 minutes outside of the city, so a little bit more country, and it's honestly so peaceful and quiet and I just really love it."
"Let's talk about the jewelry. I know they're all your babies, but if you had to pick one…"
"Well, in our new collection we have a white heart enamel story. I don't like anything overly sweet but I like these hearts because they're elongated, so they're not a perfect heart, and mixed with a chain it's a nice balance between masculine and feminine. I just love the white enamel because I love winter whites. So I'm really drawn to these right now."
Cavallari grew up in front of our eyes in the aughts with her youthful escapades televised for all to see on Laguna Beach and The Hills. I made sure to tell her that I, the random interviewer, was weird looking in high school and she'd been cute as a button, and then gave her my congratulations on the latter. She was no doubt relieved to have my vital affirmation.
She's come a long way from being featured in overly produced TV dramas, but a couple of her castmates have remained dear supporters well into adulthood.
"After everything we've been through we're bonded for life," she said. "I'd say both Audrina and Heidi. I think it was just yesterday Heidi posted her son in our Little James pajamas, our holiday pajamas… They've just been so great and it's nice just knowing we're all in each other's corners. It's just a good feeling, you know?"
I do know. A sincere friend is invaluable, especially those who stick by your side through life's ups and downs, like when millions of people tune into your life on a reality show and then take to the internet to vocalize caustic opinions based on a carefully designed character assassination. Or, in my case, whenever you were weird looking in high school. "I really do appreciate them so much," she concluded.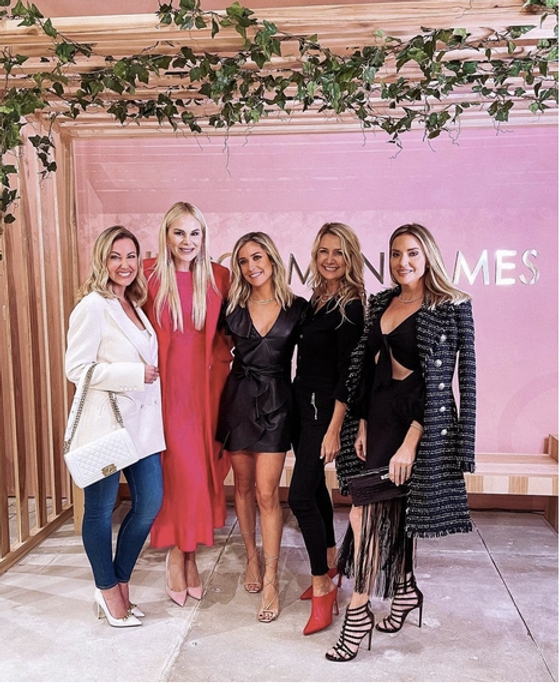 Cavallari with the Real Housewives of Dallas
"Where do you see Uncommon James going in the future?
"I think during the pandemic I sort of took a step back. I mean I have goals, but I'm not so hung up on them anymore. We're going to open two more brick and mortars next year in Charleston and Austin, but beyond that I don't have any real plans. We have another two waves of products from Uncommon Beauty so more skincare products. But after that I don't have any other cities on my radar or stores, I don't have another product line. I really want to take what we're doing and do them really well and be the best we can be at them, and I feel like I've gotten to a great place of my work/life balance and I'm really happy."
"Woman-to-woman, I wish you every success."
"Thanks. That really means a lot."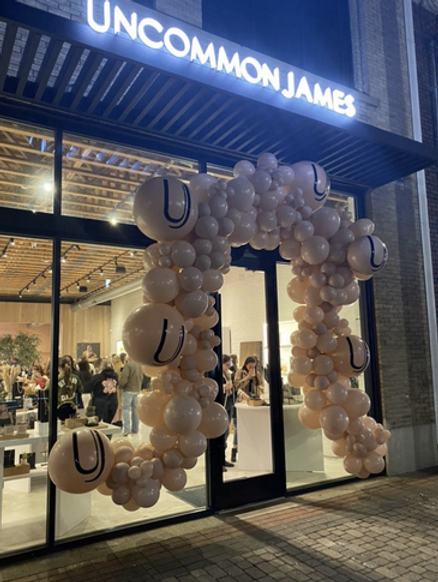 If you find yourself in Dallas, be sure to stop by Uncommon James in Deep Ellum!