By Emily Adams, Communications Coordinator, Grapevine Convention & Visitors Bureau
Get ready for adventure and a whole new world of play during Grapevine's 11th Annual SummerBlast!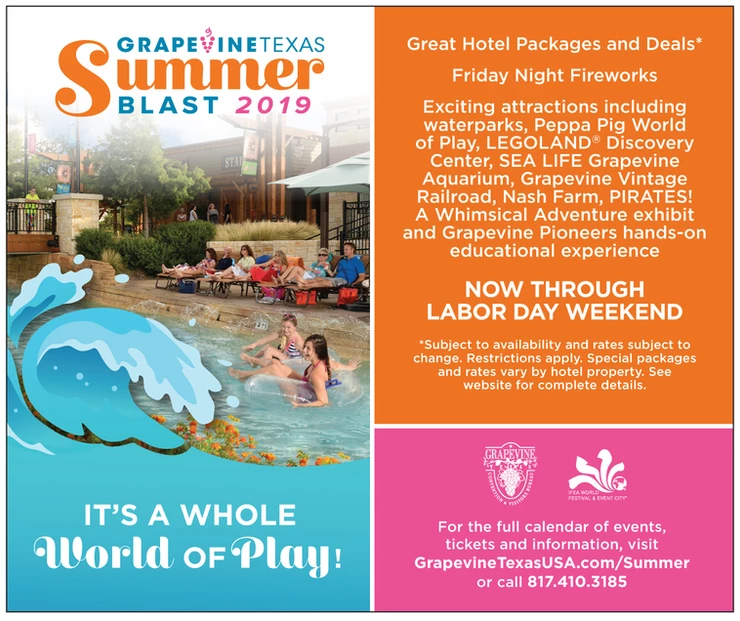 Salute America's birthday with Grapevine's 37th Annual July 4th Fireworks Extravaganza on Thursday, July 4. The 30-minute fireworks display over Lake Grapevine is set to patriotic music and begins at 9:30 p.m. Friday Night Fireworks* are set to begin Friday, July 12. Don't miss the exhilarating 12-minute shows every Friday night, July 12-September 20, sure to dazzle and excite. For viewing locations and to download accompanying music, visit www.GrapevineTexasUSA.com/Summer.
Every Tuesday and Wednesday, now through August 14, catch a classic summer matinée at the Palace Theatre during their Summer Movie Series. Watch kid-friendly favorites such as Beethoven, An American Tail, The Jungle Book and more! Screenings are at 11 a.m. Admission is $4.
Sail the Rails aboard Grapevine Vintage Railroad's newest excursion, the Swashbuckler Express! The Swashbuckler Express has check-in times of 10:45 a.m. and 12:45 p.m. on Fridays between July 5 and August 16. These excursions will be one hour in length and have interactive activities onboard. Kids will receive a special gift and are encouraged to wear their pirate
Want to add a caption to this image? Click the Settings icon.
best!
Learn and have fun while participating in Grapevine Pioneers across five different historic and cultural sites, including Millican's Blacksmith Shop, Section Foreman House, PIRATES! A Whimsical Adventure exhibit, Settlement to City Museums and Nash Farm. Purchase the Field Journal for $12 (a $28 value), which includes tickets for eight activities, and also free admission to a matinée film at the Palace Theatre. Individual activity tickets are $3 and may be purchased separately.
For more information, visit or call 817-410-3185. *Friday Night Fireworks were delayed due to high lake levels and are subject to delay/cancellation if lake levels rise above normal. Viewing locations are subject to change.