Rush Olson, Sports Writer, Visit Fort Worth
Here's a quick reference guide to spectator-friendly sporting events around Cowtown.
TEXAS MOTOR SPEEDWAY
Racing fans are set to converge on Texas Motor Speedway for AAA Texas 500 Race Weekend Oct. 31-Nov. 3. Beyond the main event, here's what's happening at the track that same weekend.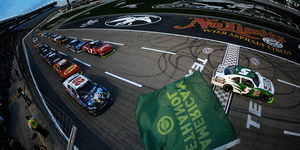 • Practice for Monster Energy Cup Series & XFINITY Series: Nov. 1
• Tony Stewart Presents The Vankor Texas Sprint Car Nationals: Oct. 31 & Nov. 1
• O'Reilly Auto Parts 300 XFINITY Series race + Monster Energy Cup Series Qualifying: Nov. 2
• AAA Texas 500 Monster Energy Cup Series race: Nov. 3
SEAMASTER U.S. OPEN TABLE TENNIS
The Fort Worth Convention Center will host more than 800 table domestic and international table tennis competitors Dec. 17-21. The Seamaster US Open Table Tennis tournament is USA Table Tennis's marquee event. You'll see some of the world's top players, many of whom will compete in the 2020 Olympic Games.
FOLKSTYLE TOUR OF AMERICA – STOCKYARD STAMPEDE
USA Wrestling's Folkstyle tour comes to the Fort Worth Convention Center Dec. 20-22. The event features six world class events for youth wrestlers, from the 8U category up to middle school. Folkstyle wrestling is the style practiced by collegiate competitors.
WILL ROGERS MEMORIAL CENTER & EQUESTRIAN FACILITIES
Equestrian roots run deep in Fort Worth so it's no surprise that one of the nation's top facilities is located in the renowned Cultural District. Many world shows and national championships house their competitions at Will Rogers year after year — and are often free to the public to watch.
Here are a few coming through this fall:
• NTASHA UPHA Fall Classic Horse Show – Oct. 3-6
• NRCHA Snaffle Bit Futurity – Oct. 4-19
• USTPA World Championship Show – Nov. 5-10
• Miniature Hereford Cowtown Classic – Nov. 16-17
• NCHA World Championship Futurity – Nov. 21 – Dec. 15
Learn more about upcoming events at www.FortWorth.com.